Our Specialties
At Whirrakee Woodware, we specialize in finished products.  All our finished products come wax dipped and painted.  And we also offer fire branding of your registration details if required.

Whirrakee Woodware has been servicing both commercial and hobbyist beekeepers from across Australia for over a decade.  So no order is too big or too small!
Our Suppliers
Price List
You can follow the button below to download a current price list of our products. If you require other information please do not hesitate to contact us.
New Products
Australian Made 8f Queen Excluders

$22 ea or $200 for 10
(10 frame available soon)
---
Single Frame Observation Hive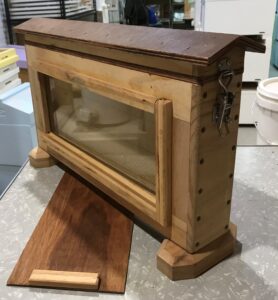 $195
---
Stainless Steel Honey Gate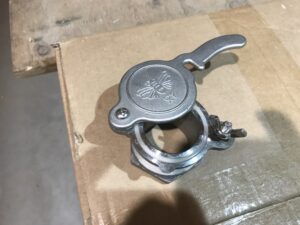 ---
New Style Plastic Honey Gate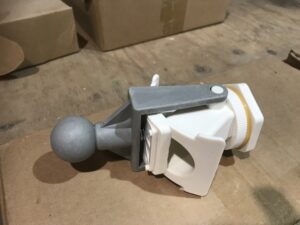 ---
Apithor Hive Beetle Harbourage
Apithor is the simple and successful way to save your hives from the damaging effects of the small hive beetle. This single use, disposable device controls the beetles, without harming you, your bees or your honey.
Hive Beetle Traps & Bottom Boards
With 2 new beetle traps and customised bottom boards, we can arm you with the best defenses to give you the upper hand against this unwanted pest, in a safe and natural way that is both safe for your bees, and unobtrusive to the functioning of the hive.

The Silver Bullet
Both of our SHB traps sit within the hive, between the frames, suitable for both 8 and 10 frame boxes.
The Standard Trap (pictured top) can sit in any box without a hive mat.
The hive mat trap (pictured bottom) has raised indentations on it so the beetle can still access the trap holes even with a hive mat sitting directly on top.
---

Mesh Bottom Board
The stainless steel mesh bottom board has a sliding wooden tray and you can have the entrance either on the top or the bottom of the rim.
Feeding Supplies
Take advantage of our new feeding products, to get you through those tough low yield times.
---
Ceracell Top Feeder Tray
Plastic feeder tray insert with chimney and corner caps, rebated into wooden box.
Suits 8f or 10f, wax dipped and painted or wax dipped only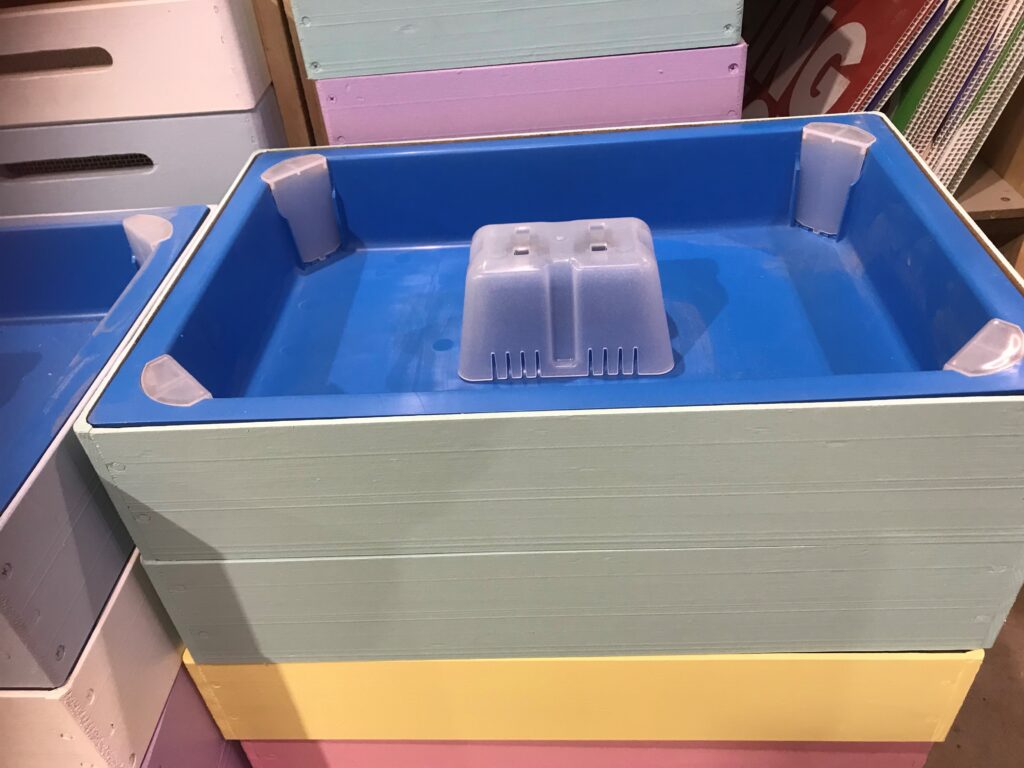 ---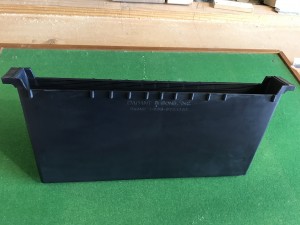 Plastic frame feeder
---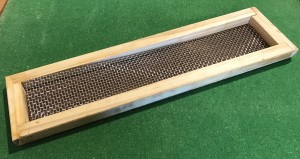 Feeding tray
Wax dipped feeding tray with 3.33 x 0.90 mm stainless steel mesh.
Sits on top of frames
---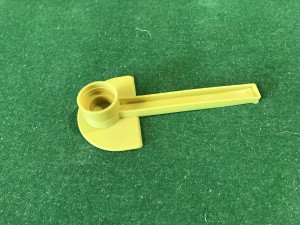 Plastic Bottle Entrance Feeder
Entrance feeder – takes standard soft drink size bottle up to 1.25l.
Bottle not included
---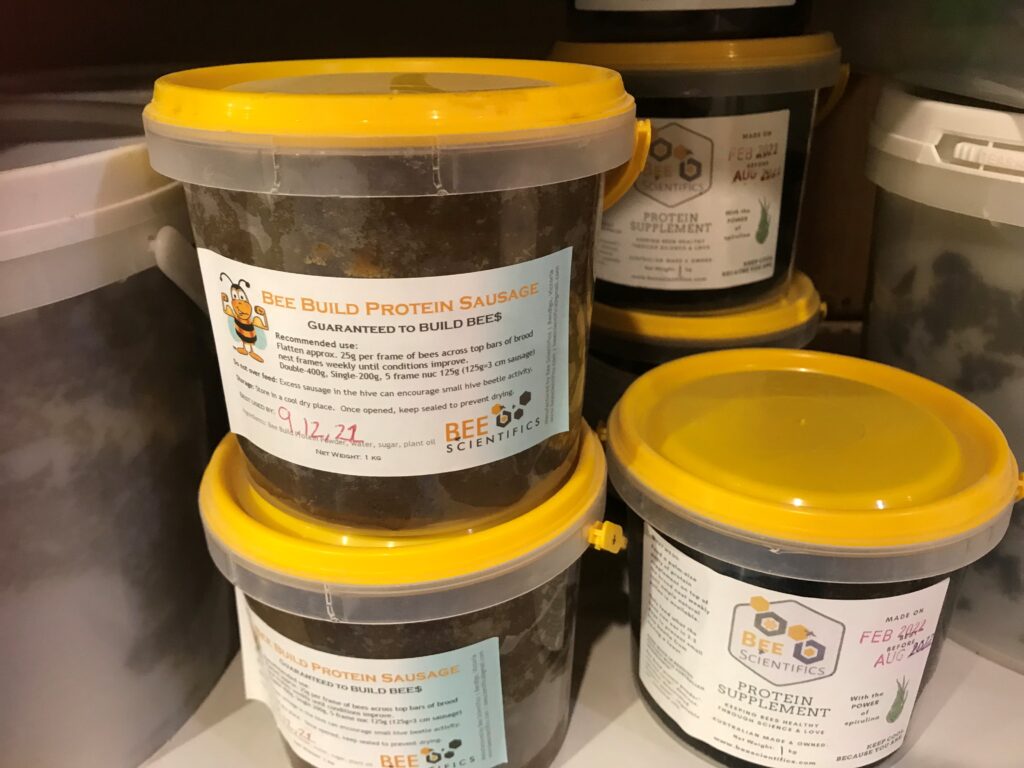 Bee Build Protein Pattie Supplement
Available in 1 kg, 3kg and 6kg tubs.
(Also available with added Spirulina)
---
Bee Pollen
Bee Build pollen substitute.
 Available in 1kg tubs and 5kg bags
Varoa Mite Surveillance Equipment
Surveillance should be carried out twice a season with 16 weeks between.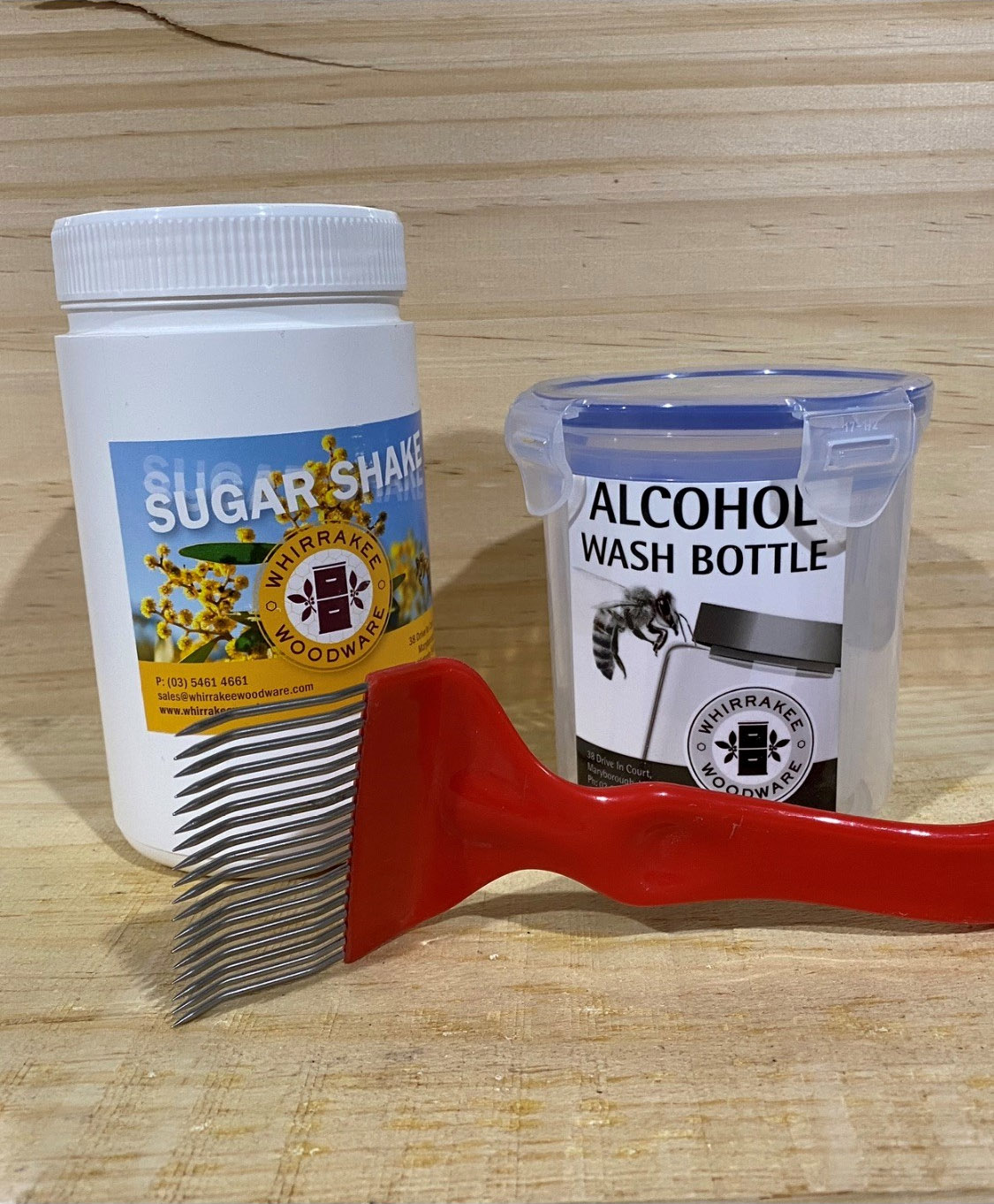 Drone uncapping AND either Alcohol wash OR Sugar shake.
Drone uncapping fork – $9.95
Alcohol wash kit – $15.00
Sugar shake kit – $17.50
POSTAGE available.